THRESHOLDS AS MEDIATORS

UPM ETSAM presented the first Architecture Workshop of Alliance4Tech in September 2022 in Madrid. A blended program was organized by the School of Architecture and the International Office of UPM, with a face-to-face first part and a virtual part during the following week. The activity was organized and coordinated by the Emilio Tuñón teaching unit and included the participation of the professors of all partners involved in the A4Tech program. Those students (old or new) who were not in Madrid were able to request an Erasmus+ grant for short-term mobility through their home universities.

Face to face activities: 5/9/2022-9/9/2022 (Madrid)
Virtual activities: 10/9/2022-15/9/2022
Professors:
Angela Garcia de Paredes
Ignacio Garcia Pedrosa
Jose Maria Sanchez
Emilio Tunon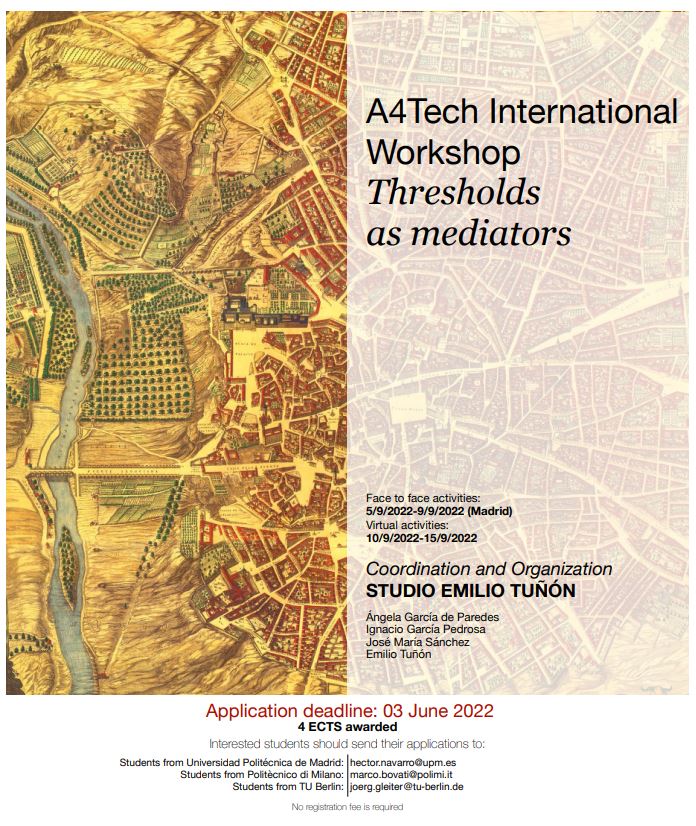 WORKSHOP TOPIC:
The origin of Madrid ("Magerit" means "land rich in water" in Arabic language) dates back to the end of the 9th century, when the emir Muhammed I ordered the construction of an "alcazaba" on the platform that is located over the Manzanares River. The Muslim Walls of Madrid was built by the emir Muhammed I and reinforced in the time of Caliph Abb al Rahmman III, in the 10th century.
The workshop focussed on a proposal for a small Study Center for Muslim Walls of Madrid at the archaeological site located on the Cuesta de la Vega in Madrid. The Study Center was to be made up only by two spaces: a closed space, which functions as a small exhibition hall, and another open space, which is formalized as a threshold of the closed space. The Study Center proposal had to solve the access of the visitors, the visit and the explanation of the archaeological remains, as well as the resolution of the complex topography of the place.
The work needed to reflect on the concept of threshold in architecture, taking as a reference the transition spaces of the two great examples of Islamic architecture in Spain: Mosque of Córdoba and Alhambra in Granada.
Other research topics that were implicit in this work were the critical metamorphosis of the city, the exceptional urban territories, and the limits of the urban.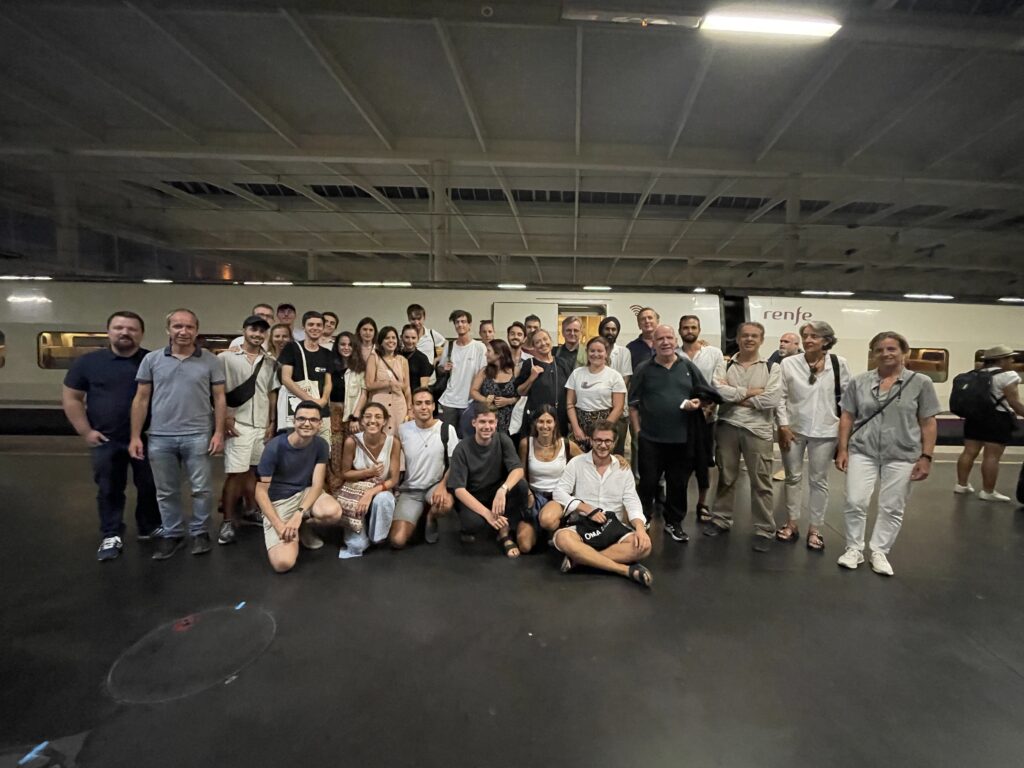 Student testimonials:
"Collaborating with colleagues from the other partner universities was a chance to strengthen the Alliance4Tech group. The quality of the workshop teaching was high and well-coordinated between presence and online."
"I appreciated the organization between lectures, and reviews, and in general, the trip to Cordoba was a great experience."
"Through the workshop I got a first feeling of how closely connected we are through the program and how we can learn from each other not only in terms of developing architectural designs, but also in dealing with new cultures, teaching and living styles. The highlight of the studio was for sure: The trip to Córdoba, this was certainly not only for me a moving architectural experience."
"The interesting fact about the workshop is there are participants from 3 different universities of different ideological approaches, working together to identify solutions to the existing situations. It was a great learning experience to understand how different yet similar our profession is. Working with professors who are practising professionally for more than a decade and seeing their built projects was the most fascinating for me, their critique of the work that we produced was insightful."