The Study unit META – Social sciences and humanities for science and technology, at Politecnico di Milano (www.meta.polimi.it) organized the A4T Winter School on Ethics of Technology in Lecco to bring together students enrolled in the A4Tech partner universities.
Students have an excellent technical and scientific preparation. However, they are not always fully aware that the decision to develop technologies and the processes of their design, management, control and production are inherently morally laden and involve societal impacts.
This Winter School aims to fill this gap by providing an updated overview of cases, frameworks, approaches and methodologies grounded in ethical theories. Lectures and exercises will address the societal impact of technology, risk issues, and the related responsibility of engineers and designers.
The Winter School lasted 3 days and took place at Politecnico di Milano, Lecco Campus, on 21-23 November 2019.
For more detailed information, please download the specific leaflet.
What did our students think of the winter school? Read Eike's account of the 3-day workshop with fellow A4Tech students!
The Alliance4Tech workshop in Lecco was a great opportunity both to think, learn and discuss engineers' responsibilities and the implications of their actions and get to know other participants in the program. During the day different lecturers gave input into varying topics. Discussing those inputs with everyone or in smaller groups during group work was especially interesting due to the different backgrounds of the participants. Having students from four different universities and even different cultural backgrounds in each university showed different approaches and mentalities complementing the already given input. The open mindset of everyone helped build a very friendly and personal atmosphere from the first day on. This also allowed everyone to voice their own opinion and created an environment where one can freely try out new things. Obviously hard work must be followed by lots of fun. The evenings where – just like breakfast, lunch and accommodation – already organised by the Politecnico di Milano allowing us to not stress about anything. Every day ended with a visit to a nice restaurant giving us a chance to not only refuel but also get to know each other outside of philosophy, ethics and responsibility. The time after dinner was used to discover the night life of Lecco (which sadly is not that distinct) and have a few drinks. Finally I had a great time and so did everyone else I believe. The organisation, framework and of course the participants lead to thought provoking exchanges, fun times and overall good memories." Eike van Dieken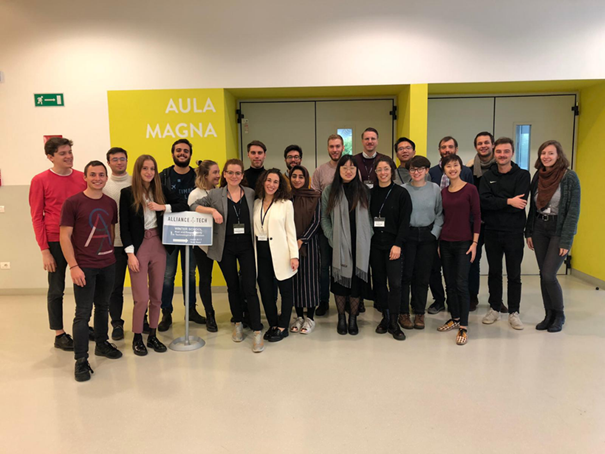 "I am writing on behalf of all the students who attended the Alliance4Tech's Winter School. With this, we would like to thank you from our heart for the precious opportunity. It was an experience of sharing and growing, culturally and professionally. In the hope that such events can be repeated in the near future: The class A4T 2019/2020″