Time to start sharing: INSYSTED presented at two prestigious conferences
On 4th of November the INSYSTED project hosted a workshop at the University:Future Festival 2021 (https://festival.hfd.digital/en/): "INSYSTED – Serious Games to Teach Hand-on Operations Management". The workshop was lead by Lissy Langer and Radhouane Rhimi of the TU Berlin team. The participants got a brief overview of the project and the didactical framework and were able to experience the serious game hands-on from the teacher's and the student's perspective.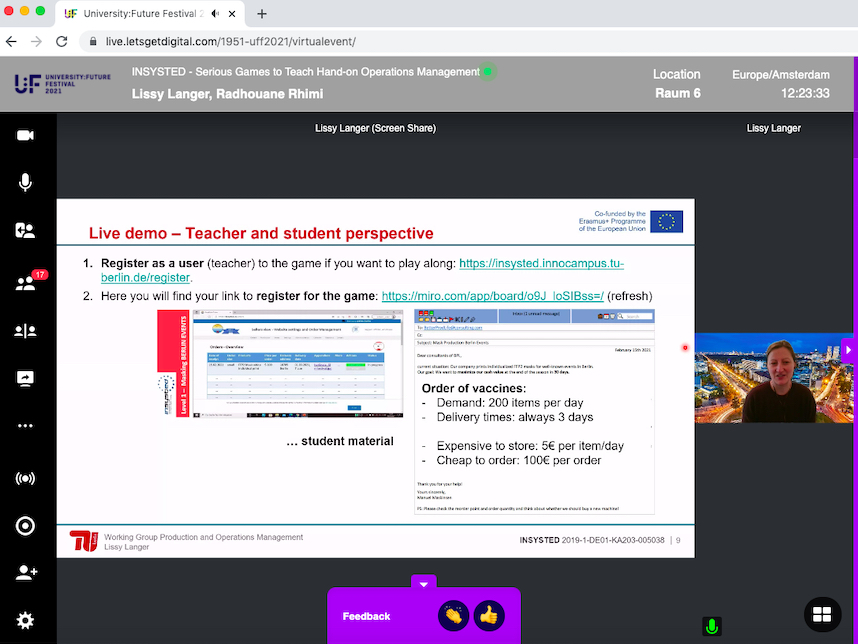 On 8th of November the INSYSTED project was presented as part of the DAAD project marketplace of the digital Erasmus+ forum for partnerships and cooperation projects. Prof. Thomas Volling briefly from the TU Berlin introduced the project outcomes: the didactical framework and the serious game, and gave an outline of the milestones to come, with the special invitation to all participants to join the project webinars offered on the 11th and the 24th November and on the 18th January 2022.